Package offers 2021

Hiking package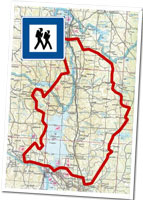 Walk the Wilderness Trail "Vildmarksleden" that passes Lindshammar. The trail totals 37 km. We recommend that you park in your car in Klavreström and walk the first section 18.5 km to Lindshammar. At the B&B a bed and dinner awaitsyou. After a good night's sleep and a nice breakfast you continue towards Klavreström (18.4 km). We'll pack a lunch box and a coffee thermos.

Price per person 650 SEK when sharing a double room (excl. beverages)
(Single room supplement 275 SEk)

Book through the form or by calling +46 383-211 90 or email us at bokning@cafesergel.se

"Barista school"


Arabustas barista training light is ideal for those who want to become friends with your espresso machine or maybe just coffee are very interested in coffee.
We go through different beans, blends and roasts, and provide an introduction to the barista profession.

The package includes:
- Barista training (ca 2,5 hrs)
- Dinner at Café Sergel (excl. beverages)
- Overnight stay in B&B and breakfast (of course, you can maker your own morning cappuccino in our espresso machine if you want to)

Price from 975 SEK per person (sharing double room)
Single room supplement 275 SEK

"The White Horse Inn" opera in Åseda
Cancelled also in 2021
Playdates 2020
Sat 25 July, Sun 26 July, Sat 1 Aug, Sun 2 Aug, Mon 3 Aug, Tue 5 Aug, Fri 7 Aug, Sat 8 Aug (2/9 pm), Sun 9 Aug, Mon 10 Aug, Tue 11 Aug, Wed 12 Aug, Fri 14 Aug

Performance is at 6 pm on Weekdays and 2 or 3 pm Saturdays and Sundays. Some weekend and extra 6 pm performance is given.
Travelling time by car is 20 mins

Tickets are booked with Smålandsoperan
Although opera is a universal language, the performance is given in Swedish.

Saturdays we are open for dinner and B&B, a good choice for the 3 pm Saturday performance: (Saturdays 25 July, 1 and 8 August)
Tapas from Småland and beyond (7 pm). Dinner and B&B (excluding drinks) 825 SEK per person sharing a double.

Other dates we are unfortunately not open for dinner, but we do offer a 10% discount for opera ticket holders when booking B&B directly with us via bokning@cafesergel.se or by calling +46 383-211 90.